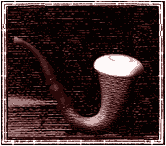 It was August in the Scottish Highlands, and Thomas P. Stanwick, the amateur logician, strode happily along the road. He was well along on a hundred-mile walking holiday, and the exercise was invigrating his lanky but usually sedentary frame. Three more days would see him to Cape Wrath and the end of his journey.
Stanwick was passing through an isolated and little-known area of the Highlands inhabited exclusively by members of two clans, the MacDurgalls and the MacFurbishes. They had lived there for many centuries, and abided by time-honored customs. The oldest of these was that the MacDurgalls always told the truth and the MacFurbishes always lied. The origin of this peculiar tradition was long forgotten, but the tradition itself was rigorously observed.
Stanwick intended to stay the night in Trigoon,a village in a distant glen. His map of the region, however, was sketchy. As he rounded a bend, admiring the verdant hills around him, he came upon an unexpected fork in the road.
No direction sign was to be seen. Fortunately, three inhabitants of the region were sitting by the wayside, eating their lunches after working in a nearby field. Stanwick approached them.
"Excuse me," he said, "but which of these is the road to Trigoon?"
"The road on the right," replied the first man.
"The road on the left," replied the second man.
"Either road is fine," said the third man.
The first man jumped up angrily and faced the second man. "You're lying!" he roared.
"No, you are!" said the second man coming to his feet. "The third man also came to his feet. "Bruce speaks the truth!" he said angrily to the first man.
The three of them continued arguing fiercely among themselves. Stanwick smiled, murmured his thanks, and set off along the road to Trigoon.

Which is the road to Trigoon?
---
---